A Guide to Pre Approved ADUs in San Jose
July 24, 2023
A Guide to Pre Approved ADUs in San Jose
Abodu
BACKYARD LIVING, INVESTING
A Guide to Pre Approved ADUs in San Jose
If you live in San Jose, California then you have the opportunity to streamline the ADU process by choosing a pre-approved ADU design — also known as an accessory dwelling unit.
In this article we'll outline San Jose's pre-approved ADU plan program, which one of the Abodu ADUs qualify for the program, and the benefits of adding a pre-approved ADU to your life.
What is San Jose's Pre-Approved ADU Plan Program?
San Jose's pre-approved ADU plan program is essentially a faster, lower-cost way to build an ADU in the city. By choosing a build plan or prefab ADU design that's already pre-approved by the city of San Jose, you can expedite the permitting process and save money.
Are any Abodu plans available under San Jose's Pre-Approved Plan Program?
Abodu has three prefab ADU designs that are approved under the San Jose pre-approval plan program, and we've outlined them below.
Abodu offers prefab ADU designs, which means you don't have to worry about designing your ADU from scratch and you save the cost of having to work directly with an architect and engineer.
Prefab ADUs can often be less expensive, faster, and more sustainable than going with a traditional stick-build ADU.
The designs are pre-determined, so you save time and money on architecture fees and planning, plus there's less material waste and fewer hiccups along the way since prefab ADUs are built in a climate controlled environment and then placed at their final destination.
Plan 1 — Abodu Studio
The Abodu studio is the first pre-approved ADU in our lineup, and comes in at 340 square feet. This design fits even the tightest backyards, but lets you live large with a full-sized living, kitchen, bath and cathedral ceilings.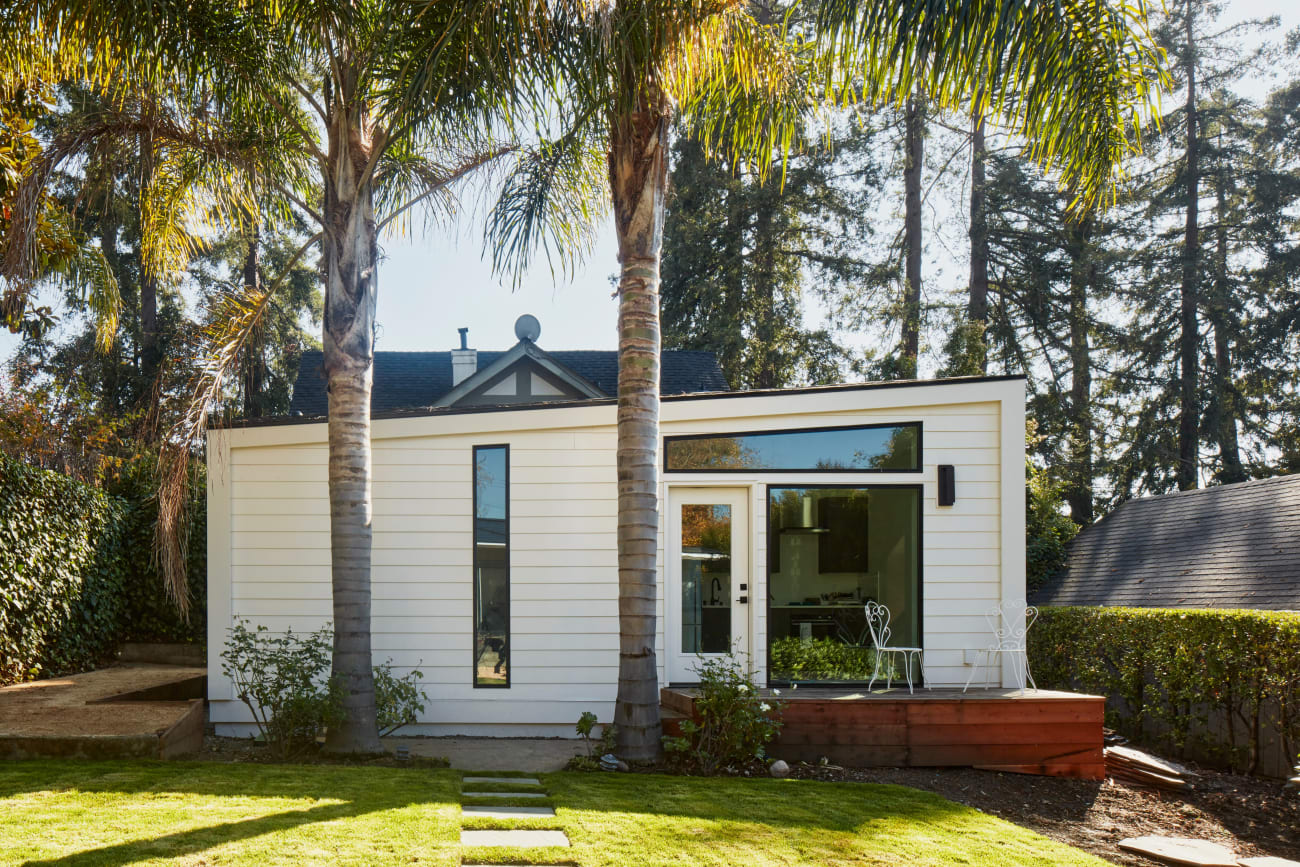 Plan 2 — Abodu One
Next up, our flagship, no-compromise design is the Abodu One, coming in at 500 square feet. This design offers one-bedroom, plus a full-sized living, kitchen, and bath and the cathedral ceilings Abodu is known for.
Plan 3 — Abodu Two
Maximize your living — or your rental income — with the Abodu Two, featuring two bedrooms in addition to all the luxuries of the Abodu One. Let your renters enjoy the extra space or utilize the extra bedroom as your home office or studio gym.
Benefits of owning an ADU
There are a number of ways owning an ADU benefits homeowners, either by simply adding more livable space to your property or through rental income. Here are some common ways homeowners use ADUs:
Home office or small business space.

A studio gym for weight training, cycling, yoga and more.

A guest house for friends and relatives.

A larger area to host family gatherings or celebrations.

As short, medium or long term rentals that provide passive income.

A place for aging parents or relatives to live out their golden years or age in place.

A way to add extra space for any of the above — without having to sell your home or find a new one in today's real estate market.
Additionally, owning an ADU can help alleviate the housing crisis in California by providing long term housing to the community, without drastically changing the neighborhood. ADUs increase the population density without adding massive housing complexes or demolishing historic homes or businesses.
How to Qualify for San Jose's Pre-Approved ADU Plan Program
All you have to do to qualify for San Jose's pre-approved ADU plan program is to simply choose a pre-approved plan from one of the vendors on their pre-approved list — like Abodu.
It's important to vet the builder you're considering using, as every company approaches pricing and ADU installation differently.
The Abodu purchasing process is transparent from the start, and our prices include estimates for site work, delivery fees, craning and installation and hookups. Not all companies provide these necessary fees in their prices up front, so make sure you ask when contacting ADU companies.
Reimagine Your Backyard Space with Abodu
If you're ready to build a San Jose pre-approved ADU, look no further than Abodu — we offer three stunning pre-approved ADU plans that were designed by world-renowned architects.
Plus, the Abodu concierge service is unparalleled — you get a dedicated project manager that handles everything from the moment you sign the contract to when you get the keys to your new ADU.
Get started by submitting information on your home and find out if Abodu is right for you — it's free to get started and there are no strings attached. Get started.